Why OR Business Management Conference?
Join us for the premier conference focused on the business management of the surgical suite! In its 10th year, the OR Business Management Conference is the only conference specifically designed to inform perioperative leaders (C- and D-suite, administrators, and business managers) about improved processes, new technologies, best practices for staffing, and ways to optimize efficiencies in the surgical suite.
Healthcare leadership attend each year seeking the latest in perioperative products and services to streamline, improve, and solve everyday challenges. In fact, conference attendees are primarily purchasing decision makers; 23% have final decision authority, and 67% are involved in purchasing committees and supplier evaluations. 78% of attendees are in managerial roles or above. The hands-on education, networking, and experience provide attendees with valuable resources to positively impact their organizations.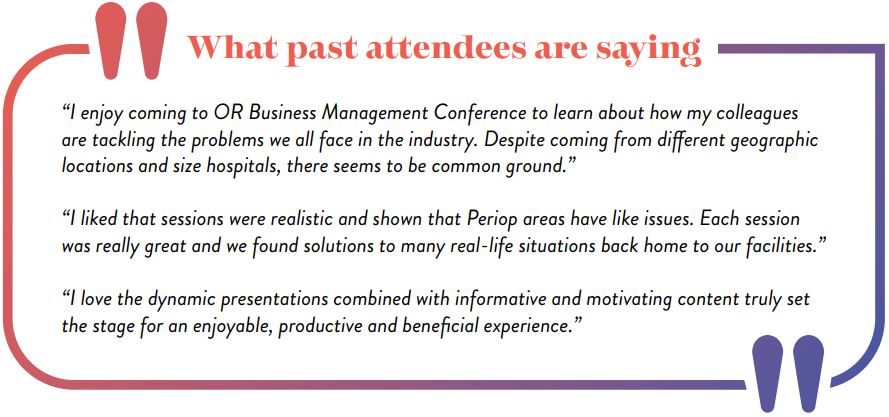 2022 Exhibitor Information
Our exhibit floor is filling up! Take advantage of a Tabletop Exhibit to showcase the value of your products and services with surgical suite decision makers. In addition, you can couple your exhibit with a sponsorship opportunity to elevate brand awareness with these influential leaders.
Tabletop Exhibit
$4,550 per Tabletop Exhibitor

Tabletop Exhibit Space Includes:
• One tabletop exhibit (includes one 6' table and chairs)
• One complimentary registration
• Exhibitor recognition in the mobile app
• Logo listed on the Conference website
• Discounted registration code to share with clients
If you have any questions about exhibiting at the conference, please contact Nancy Iannotta at 203-899-8429 or niannotta@accessintel.com